Today Ketchup and Parsley are Ubiquitous but 2000 Years Ago It Was Garum and Silphium
Garum
Garum was a condiment that the ancient Romans truly loved. They used it in everything and there were factories on coastlines all over the empire dedicated to making it. Shipwrecks full of amphorae of garum have been discovered in recent years. But what was it?
If you have ever had Thai or Vietnamese food, it's likely you've had something similar to garum. It's a fish sauce, made from the entrails of anchovies, left in the sun to ferment. Sounds delicious, right? Well, the ancient Romans thought so. They put it in everything including their deserts. When I first started trying the ancient Roman recipes, I was worried about the fish sauce, having grown up in an area far from a coast and in a family that ate little fish. But I found that fish sauce gives dishes a salty, umami flavoring when used in small doses. This makes sense as the Romans used salt to preserve their food, but not to salt it--they didn't need to when they had garum.
Today's expert on garum (and really all things surrounding ancient Roman food) is food historian Sally Grainger. She has written extensively on the topic of this ancient sauce.
If you want to make it at home, Boston chef Charles Draghi has a recipe in my companion cookbook to FEAST OF SORROW (check out the link to my cookbook in the recipes section below)

Or if you aren't so adventurous, you can pick up the Italian equivalent, colatura d'alici at Italian specialty shops, or on Amazon. It keeps forever and a little goes a long way.


Silphium
Silphium, also called laser, was an herb that the Romans loved nearly as much as they loved garum. Silphium was an herb cultivated on the island of Cyreanica, off the coast of Libya. The thing is, it was ONLY cultivated there and centuries of ancient Romans and Greeks trying to grow it elsewhere did little good. Eventually they over-farmed it and it went extinct. But even before it became so scarce, it was so prized that inhabitants of Cyrene used to put images of it on coins: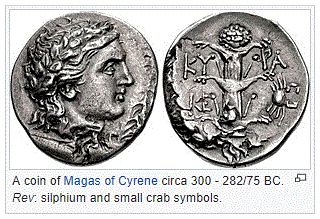 And its fruit, or seed, was heart-shaped, and it's possible that it is where we get the idea of a heart as a symbol for love.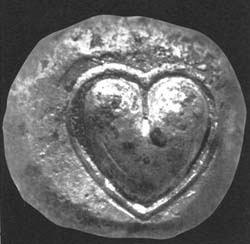 It tasted very similar to another spice that is still common in Middle Eastern cooking today, asafoetida, sometimes called hing or Devil's Dung for its pungent smell. Asafoetida existed in ancient Rome but it was considered inferior in flavor to silphium. What does it taste like? Perhaps the best equivalent would be something like leeks or perhaps garlic.
Silphium was a wonder herb, used medicinally and as a birth control. But it was also a popular herb added to hundreds of dishes in Ancient Rome.
The BBC recently put together a really amazing article on everything Silphium. In it the last sprig of it is described, given as a gift to Emperor Nero as an oddity.
In the cookbook, Apicius, there is a bit of advice on how to make an ounce of silphium last for a year.
Apicius 1.13 (tr. Sally Grainger)
"Put the laser in a spacious glass vessel; immerse about 20 pine kernels. If you need laser flavor, take some nuts, crush them; they will impart to your dish an admirable flavor. Replace the used nuts with a like number of fresh ones."
The Exotic (or at least to us today)
These foods would not have been found on the table of the average Roman. They were often costly or difficult to acquire, and subsequently prepare.
FLAMINGO: Pliny the Elder told us that Apicius loved flamingo tongue, but we know from the cookbook that wealthy ancient Romans loved flamingo in general. And yes, flamingos can be found in Italy.
PEACOCK: Throughout the centuries peacock has been found on the tables of the very rich. There are a variety of ways that the ancient Romans prepared the bird, and Apicius tells us that when it comes to meatballs (or in the UK you may see the terms forcemeat or faggots), peacock ranks first, then pheasant, then rabbit, then chicken and tender young pork meatballs rank fifth.
CRANE, PARROT and other birds we don't find commonly eaten in modern times were relished back in the day.
SONGBIRDS: little birds, such as figpeckers, sparrows, thrushes and ortolans were often defeathered, then cooked whole, to be eaten, bones and all. It was a tradition that the French continued until 1999 when ortolan populations fell dangerously low and the hunting and killing of the bird was banned.
DORMICE: The edible dormouse was much beloved by the Romans, so much so that they brought the delicacy with them when they conquered Britain. They raised these tree-dwelling mice in big jars called glirarium, designed specifically to fatten them up. They were stuffed and fried and eaten up, bones and all. In parts of Croatia and Slovenia they are still eaten.
ALL THE PARTS: Womb, tripe, udders, brains, testicles, kidneys...all of it could be found on the plates of the ancient Romans. Sow's vulva was a particular delicacy. While some sources suggest that eating the womb after a birth was desirable, Joseph Vehling in his translation of Apicius tells us:
The vulva of a sow was a favorite dish with the ancients, considered a great delicacy. Sows were slaughtered before they had a litter, or were spayed for the purpose of obtaining the sterile womb.
ELECTRIC RAY: There are two recipes in Apicius for ray, one of which contains pepper, lovage, parsely, mint, oregano, yolk of egg, honey, garum, sweet wine, mustard, vinegar and if you like, raisins.
BULBS: Today we eat bulbs all the time (onion, garlic and leeks), but in past centuries,many other types of flower bulbshave commonly been eaten. Apicius includes four recipes for flower bulbs. The bulbs are usually fried in oil and served in a sauce. You can still find this dish in many remote parts of Italy today. My husband's uncle remembers eating them here in the US as a child of Italian immigrants from Puglia.
FIG FATTENED LIVER: Foie gras was nothing new to the ancient Romans, having likely acquired the taste from Greeks who learned it from the Egyptians. But Apicius took it to another level, fattening up his pigs with dried figs, then giving them wine, which would reconstitute those figs and kill the pigs, supposedly leaving their liver full of flavor. And yes, there was a sauce for that.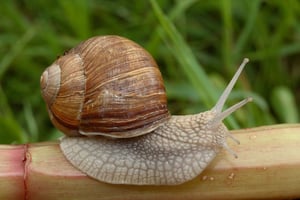 MILK FED SNAILS: The ancient Romans kept their snails in special enclosures called choclearium. They would fatten the snails on a mixture of wine and flour, or as described in Apicius, on milk. The snails they used are called Roman snails, or sometimes Burgandy snails. They are often kept as pets.
POSCA: Posca was a red-wine vinegar concoction that Roman soldiers drank. It was made by mixing sour wine or vinegar with water and, like all wine of the day, mixed with herbs for flavor. The Romans believed it helped fortify the soldiers and indeed, it did help prevent scurvy and provide some anti-bacterial protection.
The More Familiar
Tapenade - this caper and olive spread was as popular in ancient Rome as it is today. While Apicius does not include a recipe, you can find one in Columella's,

De re Rustica and Cato the Elder's book On Agriculture.
Foie gras -

I mentioned foie gras previously, but beyond the fig-fattened pigs, the ancients used to fatten up all manner of small birds to snack on their livers. Don't let a Frenchman tell you different (but yes, they did perfect the method).
Fried dough

- Living in the city meant that you were often on the go. And just like today, dough fried in oil was popular. See the recipe section for an ancient Roman fritter that you can make at home today.
---

FROM CHAPTER 19 - FEAST OF SORROW

The wedding prandium was an all-morning affair. The guests retired to couches in the atrium to eat the most elaborate breakfast I had ever devised. I couldn't bear to sit with the crowd and instead helped Timon deliver course after course of dormice in honey, more spiced fritters, platter upon platter of fried anchovies, flatbreads with goat cheese and pepper, medallions of wild boar and individual bowls of hazelnut custard. Each dish was served on golden trays. The guests were given gold spoons and napkins dyed in Tyrrhenian purple—lavish gifts they could take home. In between each course, barely clad serving girls showered the guests with rose petals and helped them wash their hands.

---
Haggis - While it's the national dish of Scotland today, it was the ancient Greeks and Romans who first started stuffing meats and spices into a cow or pig's stomach or lung, then tie it up and boil it. Apicius includes a recipe for boiled stomach, stuffed with brains, eggs, pine nuts, peppercorns, ginger, anise, pepper, lovage, silphium, rue, garum and oil.
Meatballs

- While there wasn't spaghetti to accompany ancient Roman meatballs, that didn't make them any less popular, especially as a street food. There are a number of recipes in Apicius for meatballs, which were always served in a sauce.
Absinthe/Vermouth - No, it wasn't likely anything similar to the liquors we know today, but as the wormwood recipe in Apicius shows us, it's where they get their start.
French toast

- yes, that's right. This popular breakfast dish originated in ancient Rome.
Apicius 7.11.3 Another Sweet Recipe (tr. Sally Grainger)
Take the crust off a white loaf and break it into quite large pieces. Soak in milk, fry in oil, pour on honey and serve.
Fritattas, omelettes and quiche

- The Romans were quite fond of eggs and there is an entire chapter in Apicius dedicated to

patinae, dishes made with eggs. You can find omelettes made with roast pine nuts, honey, pepper, garum, milk, eggs and oil, to extremely complex dishes such as the Apician patina which includes cooked udder, flaked fish, chicken meat, figpeckers or cooked breast of thrush and "whatever finest quality things there may be."
Flatbread

- A staple of ancient Roman life, flatbread is truly one of the most ancient foods that we still eat today. There are

hundreds, if not thousands, of different types of flatbreads from cultures around the world.