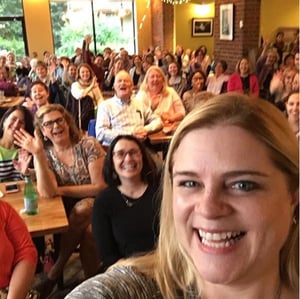 If you're in a book club that's selected to read The Chef's Secret or Feast of Sorrow and would like me to join your discussion, please reach out. Sign up via the form on the right for me to come to your book club (Boston area only) or to join you online.

Also, book clubs who read one of my novels will receive a complimentary copy of the book's companion digital cookbook, either The Chef's Secret Companion Cookbook or A Taste of Feast of Sorrow.
Both cookbooks contain delicious recipes by Crystal King and by renowned chefs, food historians and food bloggers.
Just want the reader's guide?
You can download The Chef's Secret reading group guide here.
You can download the Feast of Sorrow reading group guide here.
Connect
I'd love to join your book club through video chat! The easiest way to do that is via Novel Network.