When I was researching my novel, THE CHEF'S SECRET, I discovered that in the Renaissance, often a chef was as important to helping the ill and wounded as a physician might be. This is evident in Bartolomeo Scappi's 1570 cookbook, which has 218 recipes specific for the sick. These recipes include "prepared potions, broths, concentrates, pastes, barley dishes and many other preparations needed by the sick and convalescent. Interestingly enough, some of the most delicious recipes among the thousands in his cookbook appear in this section, especially sweet dishes.
Among this section are many dishes, both sweet and savory, for sops, which is much like what you think it is. Bread that sops up liquid. Generally the bread is toasted, and drowned in a sauce. Americans may be familiar with a dish of this sort, called Shit on a Shingle, which was chipped beef on toast (recipe here), and was a dish served to many men in the military in the 20th century.
One of the sweet sops recipes that Scappi shares is for cherries. It's extraordinarily simple and hearty, and I can attest to the fact that if I were sick and someone served it to me, I'd probably down every last bit of it. But it's even more delicious if you are healthy and want a bit of dessert.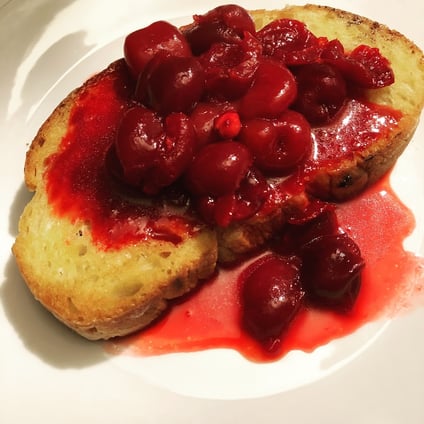 The original recipe:
Bartolomeo Scappi, Opera Book VI.135

To prepare sops with visciola cherries or morello cherries.Get one or the other. They should be fresh and not too ripe and picked immediately before. For every two pounds of them get two thirds of a litre of white wine, four ounces of fresh butter and four ounces of sugar. Bring that to a boil until the wine has coloured. Have slices of bread ready, braised and fried in butter, and when they are set out in dishes, pour some of the visciola cherry juice over them, then put the cherries on them with sugar.
Cherry Sops
serves 4 people
1 lb cherries (.45 kg)
1/3 liter white wine
4 oz. butter (113 g) (and more for toasting bread)
1/4 cup sugar (50 g)
Loaf of Italian bread
Melt 4 oz. butter in a saucepan, then add wine. Bring to a boil (until wine has colored).
Add sugar and cherries. Cook for 20-30 minutes until it's a thick syrup, stirring occasionally. Watch to make sure it doesn't boil over
Right before cherries are about done, fry bread slices in a skillet with butter.
Pour cherries on toasted bread and sprinkle with sugar.
If you make this dish, I'd love to know how it tasted! Share your photos online with the hashtag #TheChefsSecret.